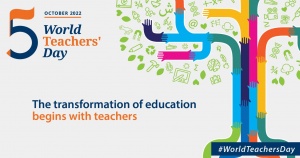 In the year 1994, the United Nations Educational, Scientific, and Cultural Organization (UNESCO) proclaimed October 5 as World Teachers' Day. The date is significant as it was on this day in 1966 that a special intergovernmental meeting accepted the UNESCO Recommendation on the Status of Teachers. The suggestion provided teachers with an outline of their obligations and rights. The historical recommendation tackles the subject of teachers' continuous education as well as issues related to education personnel policy, recruitment, and initial training.
The theme for World Teachers' Day 2022 is "The transformation of education begins with teachers" This is a day to celebrate the transformative and critical role that teachers play in growing learners' potential. We need to ensure that they have the tools they need and are recognized for their key role.
World Teachers' Day is held annually on October 5. It is observed to express gratitude for the contributions of teachers, who prepare children to face the world. Teachers, take care of every child without prejudice and instill confidence and courage in them, in addition to educating and training them. Teachers, without a doubt, are wonderful mentors and philosophers who help us to get the ability to handle life's ups and downs. That has been the case since the first observation way back in 1994.
The fitness of the pupil is shown in his love for the acquisition of knowledge, his willingness to receive instruction, his reverence for learned and virtuous men, his attendance at the teacher, and his execution of orders. "Dayananda Saraswati".